For the past two Saturdays I've linked up to Paige from
Artsy Anthropology
's Saturday/Weekend Challenge.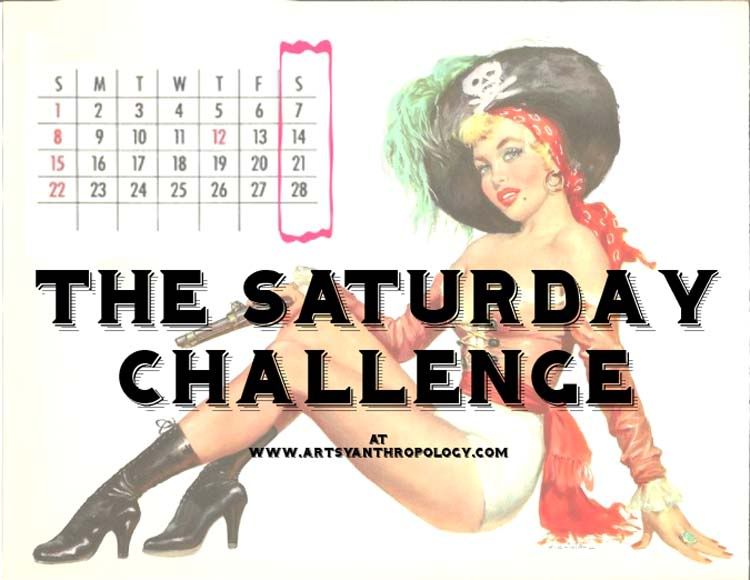 Obviously I did not get there on Saturday due to the fact that I spent yesterday on campus all day at residence with the new students and parents who were all moving in to start Orientation. I like what Paige has to say about the challenge though:
Here's how it works, the Challenge is posted on Friday (or Saturday) and then you have a week to submit your link.. it's not called the Saturday Challenge because that's when you "have to do it", that's simply when it's put out there for you to being - by all means, don't let the fact that it's Tuesday prevent you from feeling good about helping people!
So here I am on Sunday morning.
1. Say something nice about 2 different people that you've met through blogging, shop ownership, etc..
Rosie from Craftbotic has organized two rounds of the Blog Angel exchange now and is planning another one for this Fall. She matches up bloggers who then act as secret angels to each other helping to encourage and support each other. It's really a lovely concept.
Megan from Shaping Up to be a Mom was my Blog Angel for the past month. I was so pleased to find out. I had no idea it was her and it was a really fun surprise to log into blogger and see the most recent post from a blog I follow had my photo showing!


2. Do something nice for a complete stranger, doesn't have to be big or expensive.

We donated some toys to the Animal Shelter yesterday. Unfortunately they're in major financial crisis so that certainly isn't enough.

3. Say something good about yourself.
I am very good at cajoling new students and their parents and grandparents and siblings and everyone else who helps them move into residence these days into posing for a photo. That's what I spent my day doing yesterday
.

4. Say something good about someone in your family/immediate circle that you feel you don't say about them enough, if ever.
I was going to write something about Husband here but he's currently showing me photos of old rifles. So, as my brothers used to say "he's out of the family". Ok, then there was a gun safe. Now I can't even think of what I was doing. Sigh.
My Dad isn't always given credit in my family for how smart he is and how good he is at what he does. Mum is very smart and her brain is always going a thousand miles a minute but Dad is steady and detailed and very good at seeing all of the sides of something.


5. Treat yourself to something - a bubble bath, a coffee without distractions, something - just take time out for you.

Will get to this. When there aren't gun safes being shown to me on the internet. GUN SAFES! All of this because he wants to have historic rifles. Sigh.
6. What was the highlight of your week, share it with us!
This has been the week where exciting things really start to kick off for the Fall term at the university. Every year I love the leadership event we do with speaker Andy Thibodeau. It's the first time I see many of our student leaders after the summer and they always make me feel young and enthusiastic... if slightly tired by the end of these two weeks!