Some of you may remember from last week that my friend Paige over at
Artsy Anthropology
is running a Saturday Challenge which is kind of a nice way to focus on the positives of blogging and life in general.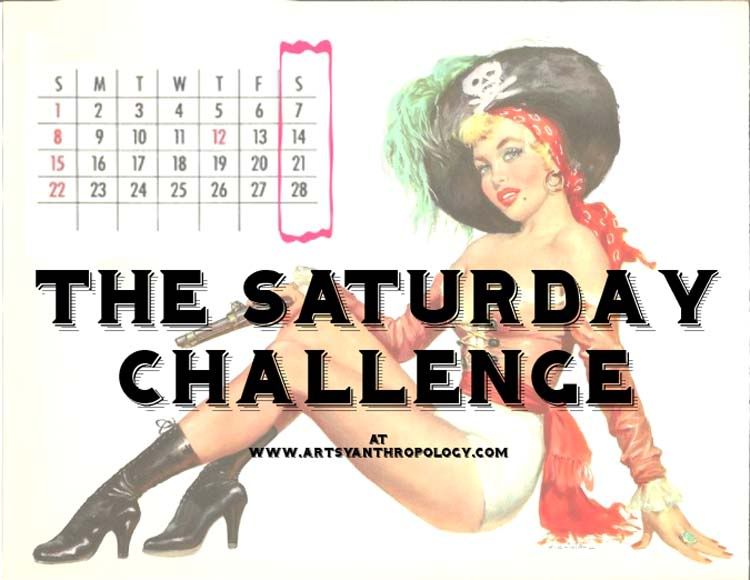 I didn't get around to doing it on Saturday but let's take a look at this week's questions.
Today I Challenge You To...
1. Say something nice about 2 different people that you've met through blogging, shop ownership, etc..

Melissa from
Sigh...Gush...Gas
p actually lives near me and is a blogger that I've been lucky enough to meet in "Real Life" a few times. It's great to have someone from the blogging community near by to meet up with for outfit photos and such. Plus she has the cutest baby and teaches at the high school I went to.
Most bloggers are familiar with Annelise from
Aunie Sauce
and that's because she really is awesome. I love her comments on my blog posts and her replies to my comments on her blog. She's fun and she cares which is just a great thing.
2. Do something nice for a complete stranger, doesn't have to be big or expensive.

Yesterday I let someone out into traffic who had been stuck waiting for a break forever. Not a big thing but probably helped make their day better.
3. Say something good about yourself.

I like to think that I remember to thank people and show appreciation when they do something for me. At least I'm working on doing that as much as possible.
4. Be thankful for something.

I mentioned a couple of things on Friday that I was thankful for this week but today I'm thankful that Husband made breakfast and lunch because I'm not feeling great with a headache.
5. What was the highlight of your week, share it with us!
I can't come up with one highlight for this week. I was really quite grumpy and stressed and just tired this week. You know one of those weeks where you feel mildly like crying for no particular reason? So I guess my highlight was looking at this week and realising it was actually good one. Mum came over and cleaned up my flower beds and we had supper with the parents one night. Husband has been home most evenings now that he's on internship. We've been watching back episodes of Dr. Who which is fun. The fluff balls have been very cute even though we're worried about Spock's sneezing. Plus I got free lunch at work one day this week which is always good!