After yesterday's little whine-fest I figured it was a good time to break back out my Friday Favourites concept. Here are a few things that are making me happy/thankful/excited right now.
A Little Piece of Me
March Group Giveaway Win!!
I started off my work week with an email letting me know I'd won a big group giveaway. That's got to be a good thing right? I'm super excited about the ad space I've won on some great blogs as well as the lovely THINGs. Here's a
link
to the giveaway so you can see what I won and you should definitely stay tuned for Selena's next group giveaway which I'm told will be happening around April 23rd.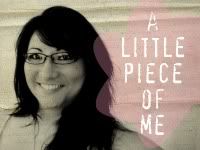 Warhorse Tickets
Mum and I are going to be in Toronto at the beginning of June for a wedding (there's a bunch of travel happening around that time so expect a bunch of blogging about it) and we have tickets to see Warhorse on stage. I hear the horse puppet is amazing. The Lion King was amazing so I have no problem with puppet animals on stage.
Canadian Progress Club
Charter Night
Last week I mentioned Progress Club in a blog post. It's a national service club that's existed in Canada since the 1920s but there has not been one in Saint John until now. Our official Charter Night is tomorrow (Saturday) and I'm really really excited. There are Progress Club members coming from around the Maritimes for the event and we get to dress up (expect photos next week). We get things like our name tags and pins and club banner. It sounds a little cheesy probably but it makes us a proper club and will hopefully really kick our volunteer service and fund raising into gear.
(Plus I'm finally going to wear these!!)
What are you looking forward to this weekend??