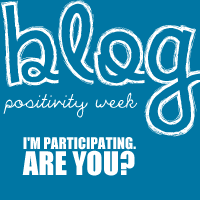 Today kicks off Blog Positivity Week which was the brain child of Ashley over at
After Nine to Five
. The idea is give us a little reminder of all the fabulous things about the blogging community whether you're a blogger or a reader or a lurker or just accidentally stumbled on this looking for Monet's Waterlily paintings.
I try to write a positive and perky blog most of the time. I definitely hit a bit of an inspiration wall during the Winter months though. Having taken a little trip to a sunny, tropical climate and now with Blog Positivity Week to help push me towards Spring (we had snow last week here on the East Coast of Canada), I'm looking forward to things to come.
To start off this week I want to thank all of the local bloggers, businesses, ladies of twitter and individuals who have been so welcoming. When Husband and I moved to New Brunswick it was a bit scary. Husband had never lived here and I hadn't lived in this area for more than a few months since I graduated from high school. It's hard to start over as "grown ups".
Blogging has been a great way to connect and we're lucky to have such an active blogging and social media community here in our little piece of the world and beyond. I can't possibly thank everyone individually but know that I appreciate everyone who has commented, followed, liked, tweeted, retweeted or given me encouragement in real life.
To start your week off here's happy Sadie
Linking up with
Finding the Beauty in the Ordinary
today for Cup Half Full. Head over and say hi.